Home / Slovakian Rough Haired Pointers / Weimaraners / Showing / Gallery 1 / Gallery 2 / Contact
Contact us
Puppy care is our priority, we pride ourselves in rearing quality puppies to a high standard. Puppies are reared in the home and are very well socialised, a vitally important start in ensuring you of an outgoing and friendly weimaraner. We feed the best quality food for the breed, Royal Canin Maxi baby Dog. Worming is carried out at regular intervals.
Our bitches are hip scored as are the stud dogs which we use. Our bloodlines are exceptional and include many champions in both showing and working. Although you may only want a pet weimaraner, you will want to know that the puppy you choose is a good example of the breed and that it has been bred from healthy stock which are free of hereditary diseases.
Our local Vet checks our puppies at birth. Dew claws will be removed, we no do not dock the tails. All puppies are insured. We also supply free puppy packs, which include lots of advice on feeding, house training, worming, exercise and general care for your dog.
Because we care about our puppies and like to ensure that our puppy owners are happy, we offer help and advice for the life of the dog. We like to keep in touch with our puppy owners, who often send us pictures and letters. For us, it is wonderful to see how the puppies develop and mature into adult dogs, and we have the added advantage of making some lovely friends along the way.
Many of our puppy owners return for a second puppy; either after bereavement or for a companion to their original member of the family, this is a great honour for us.
Please feel free to give me a ring for a chat: Theresa Oakes on 01686 621045, I will be only too pleased to answer any questions you might have about our Weimaraners and the breed?s suitability for your family.
Alternatively, you can send an email with some information about yourselves to us at : theresa@oakmoreton.co.uk
Please Note:
In the interests of our puppies welfare, we do not let our puppies go to anyone unless we have met the prospective owners in advance. If you would like to be considered to be included on our waiting list, please contact us preferably by telephone (details above) with some information about yourselves - we can then make arrangements for you to come and meet us and the girls.
We have puppies dotted all over Britain and most people feel that the distance is not a problem in finding the right puppy to join their family.
Links

Jersey Show Champion Oakmoreton Ptarmigan. Photo by John D Jackson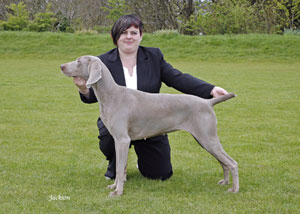 Nikky Mourant with Oakmoreton Moonshine (Ayla)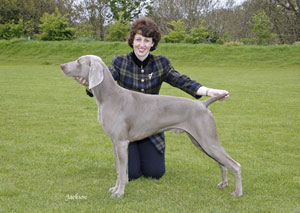 Christianne Creber with Oakmoreton Ptarmigan (Luka)