Home / Slovakian Rough Haired Pointers / Weimaraners / Showing / Gallery 1 / Gallery 2 / Contact
Slovakian Rough Haired Pointers
Amie ( Achouffe Amie at Ansona)
We are delighted to announce the brith of Amie's beautiful puppies, born in the early hours of 25th March. We are lucky to have four boys and four girls, all big strong healthy puppies. Puppies by Beno Meskov Dvor at Stormdancer.
We are new to the Slovak breed and Amie is our first young lady. We were fortunate to be offered Amie by our long term friend Tricia Grime of Ansona Gundogs.
Having bred weimaraners for many years we wanted to go for a different breed but still with the same athletic looks and intelligence. We had long admired the Slovakian pointers but on a visit from Tricia with her lovely bitch Cassie, Amie?s sister, we decided this was the breed for us. We have been delighted with our choice and Amie has fitted in with our weimaraners and hungairian vizsla as though she had known them for years. Amie is everyone's friend and adores as much attention as you are prepared to offer.
Slovaks are a working hunt, point, retrieve breed but are equally happy to be a best friend and family pet. They do require exercise as any dog does and being an intelligent breed they also require mental stimulation to be happy and occupied.
Amie is lovely with other dogs and is non confrontational as is usual for this breed, she is loving and easy going, a joy to have around in every way. She is perfect around young children and enjoys being around our Granchildren?especially if they have biscuits!!
We are certainly smitten with our new girl and will be looking to keep a puppy from Amie in the future.
Born 11/02/09
Sire: Evar Kaicul at Stormdancer
Dam: Ansona Alara Avec Achouffe
DNA profiled
Hip Scored - 4 right / 5 left
Inbreeding co-efficient of pups 3.9%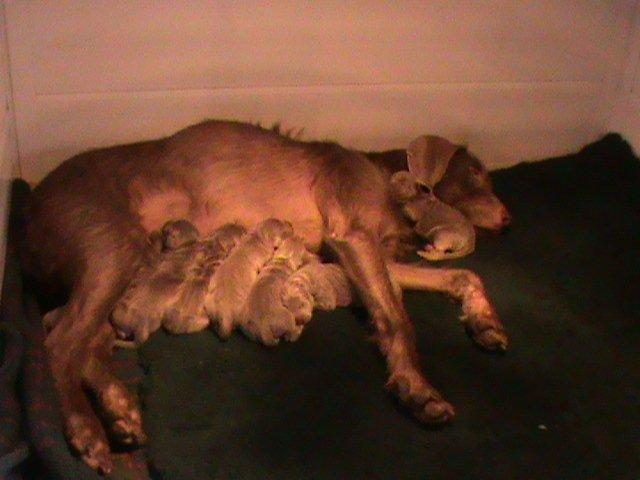 About the Breed
Slovakian Rough Haired Pointers (Slovensky Hrubosrsty Stavac) are a relatively new breed to these shores. Dating back to the late 1950's, the SRHP originated in Czechoslovakia following World War II and is believed to have been developed using the Weimaraner, German Wirehaired Pointer and Cesky Fousek. Read more on the web links below:
More about the breed - www.slovakianroughhairedpointerclub.org.uk
Slovakian Rough Haired Pointer Club - www.slovakianroughhairedpointerclub.org.uk
THE SLOVAKIAN ROUGH HAIRED POINTER
(Slovensky Hrubosrsty Stavac)
What is it?
The SPR as it is known, is a member of the Hunt, Point and Retrieve section of the Gundog Group. It has an excellent nose and was breed to work after the shot, being an excellent game finder and tracking dog, who is at home on land and water. The dog is of medium build and grey in colour, with a rough outer coat and fine dense undercoat.
Where did it come from?
Slovakian Rough Haired Pointer Slovensky Hrubosrsty Stavac This breed originated from Czechoslovakia, after the second world war there were a number of changes, a lot of the good working dogs were lost and the way of farming and hunting changed, this necessitated a dog that could fill this new role.
The hunters wanted a dog that was biddable and did not range too far (the Czech test rules looked for a dog seeking at 30 paces in front and 80 paces to each side). The emphasis lay on work after the shot, which meant a particular aptitude for finding shot game, being reliable on a scent trail and retrieving. All this lead to the development of the Slovakian Rough Haired Pointer (SRP).
The SRP is an amalgamation of three breeds, the Czeskey Fousek, the Weimaraner and the German Wirehaired Pointer; crosses between these breeds took place in the 1950's and entered into the Slovakian 'experimental' register. Only dogs and bitches of sound temperament and excellent hunting ability were bred from and this was under the strict control of the breed wardens. A mistake in the translation of the Weimaraner standard into Slovakian, was the reason for the breed been registered as a Rough Haired Weimaraner, it was not until 1975 that the mistake was identified by the German Weimaraner Club, the club did not approve, and the breed was removed from the Weimaraner classification. Until this time breeding between rough and smooth had been carried out with the approval of the breed wardens. The dogs were then registered with the Slovakian Hunters Union, the breed was developed and was admired for its working ability.
By 1981 the breed had developed and could be split into three genealogical lines and three unrelated breeding groups, by this time there where about 400 dogs registered and approval was sought from the FCI. On 6th June 1982 approval was gained from the FCI, becoming breed number 320, by the end of 1984 there were 550 dogs registered in the studbook. Of these 260 had passed autumn tests, 30 with forest and special work tests and 26 with full utility tests.
The breed in this country
The breed was first introduced to the UK in 1997 by Margaret Holmes and Kevin Bingham, they were Amie and Amaretto vom Kapffelsen from Germany, then Spek, Santal and Supa zo Sorosa from Slovakia, these five are the foundation of stock in the UK.
The breed was included on the Kennel Clubs import register in 1998 and the first litter registered in March 1999. Nicholas Elder imported five SRP into Ireland and there have been three further litters, the latest in February 2003. This brings the total number of dog registered in the UK to 32.
As yet the breed can not be shown in this country, as it does not have an approved standard to judge the breed by, but its inclusion on the import register means that it may be entered into any Kennel Club Working event or Field Trial, of which its is more than capable of doing.
General Appearance
As the breed does not have an approved breed standard in this country I can only give you a brief guide to how they should look. It is important to remember that these dogs where bred to work and hunt all day and so nothing has been exaggerated, they are a sound dog with loads of working ability.
They are medium sized and strongly built, being longer in the body than height. The maximum height for dogs around 27" and the bitched 25". They are basically grey in colour although they are allowed white markings and may be roan or splash marked.
The head is moderately long and lean, with a large dark nose, the eyes are almond shaped and amber in colour and they have long and smooth ears, set just above eye level. They have a moderate neck, well-laid shoulders and a level back, the ribs are well sprung and the flanks moderately tucked up.
They stand on strong legs with well-arched feet that are dark in colour with dark coloured nails. The coat is the most distinguishing feature, it has a very fine undercoat that is mostly shed in summer, the outer coat is harsh, straight hair approx. 4 CMS in length, the hair is longer on muzzle and eye brows and smooth on the ears.
Temperament and working ability
It is hard to believe that two breeds as in The Weimaraner and the German Wirehaired Pointer could be combined and the result be so different. As I own both of these breeds I can see traits of both in the Slovakian, but they are so different, everything they do is different.
They are a very loving easy breed to live with; they are affectionate, willing to please, laid back, easy to train and amusing! They never cease to amaze me with their different approach to life and often act the fool. However don't be fooled, this a class one working dog with an excellent nose and heaps of staying power!
They will cover the ground at a good pace, they are in general an air scenting dog but I have found them to work out a ground scent before lifting there head and taking in the wind. They are good steady pointers and are excellent after the shot, being natural tracking dogs and good retriever with lovely soft mouths, they are also good in water and have good protection from the cold.
I have owned and worked Weimaraners for a number of years and nothing has come close to my favourite breed, until now! This is a breed that will win its way into people's hearts and once you realise the unspoilt working ability that lies beneath, you will, like me, be hooked.
written by Tricia Grime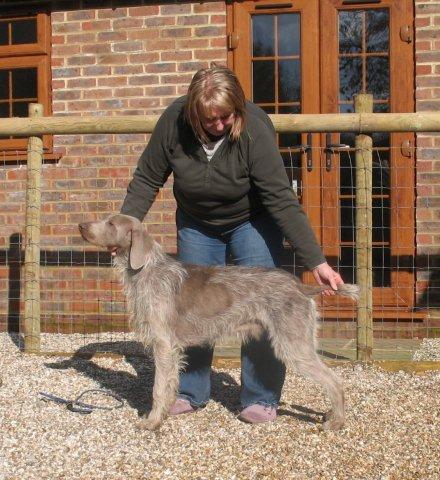 Achouffe Amie at Ansona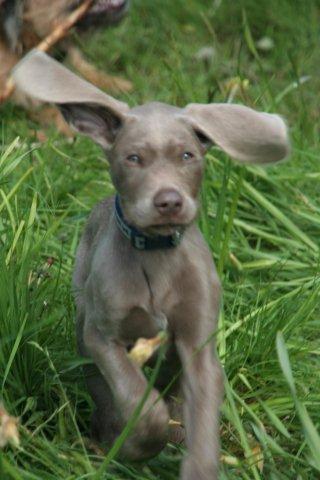 Eric goes flying

Eric sleeping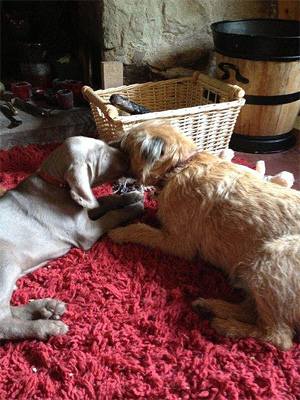 Eric the slovak puppy with his new best friend Ernie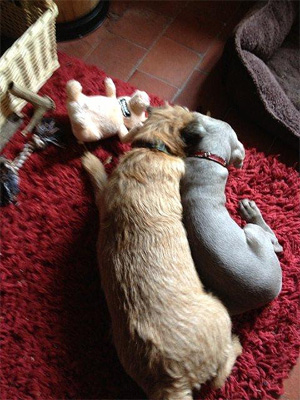 Eric and Ernie getting to know each other.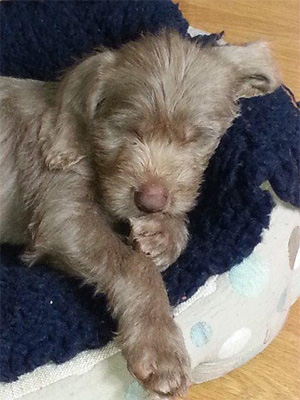 Suggs taking a well earned rest...life is so hectic!!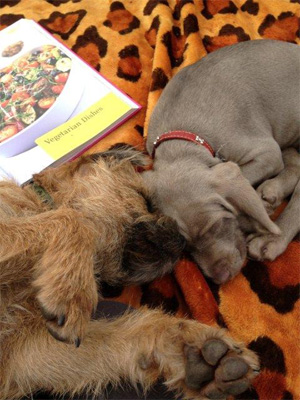 Eric and Ernie, best buddies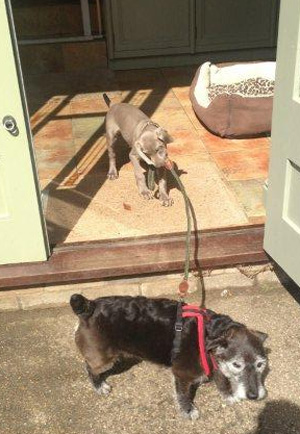 Rufus taking his friend for a walkies!!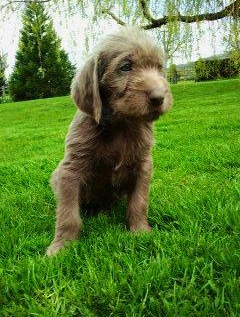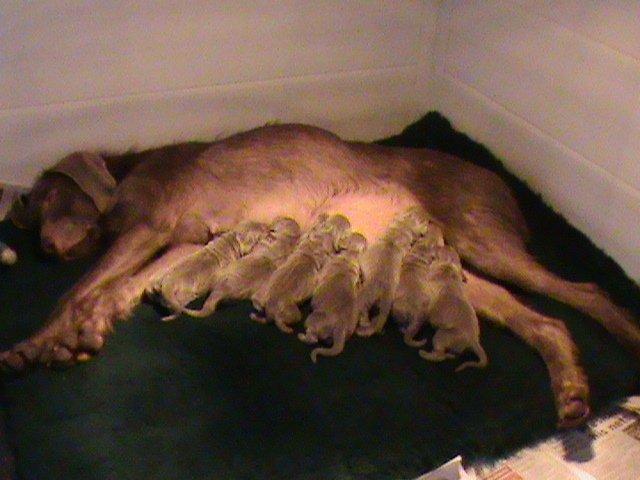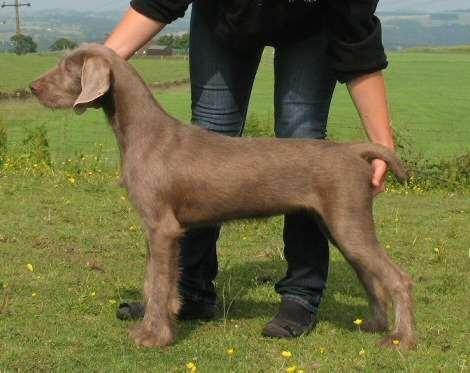 Achouffe Amie at Ansona 5 months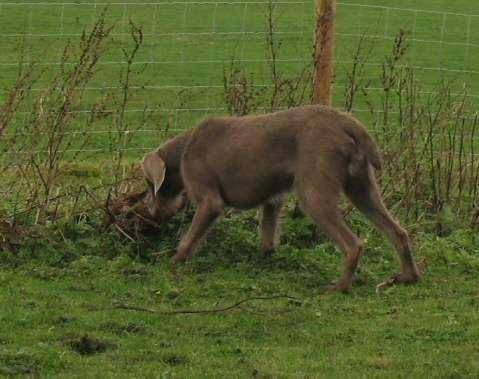 Achouffe Amie at Ansona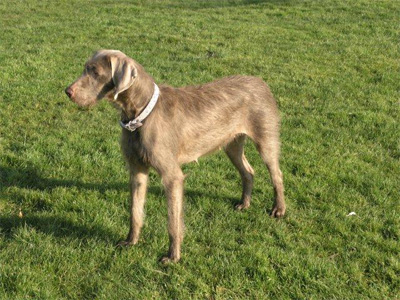 Achouffe Amie at Ansona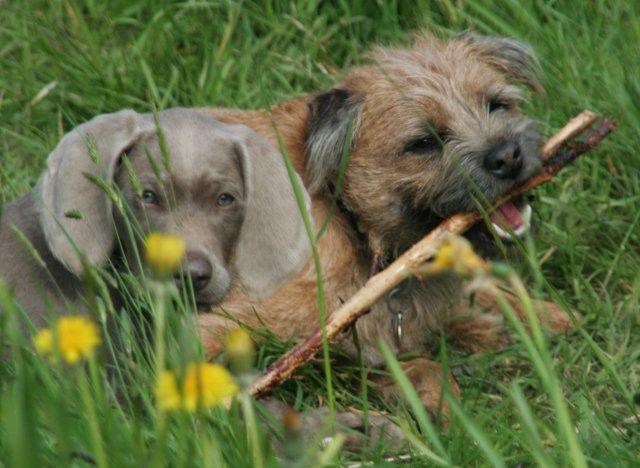 Eric and his friend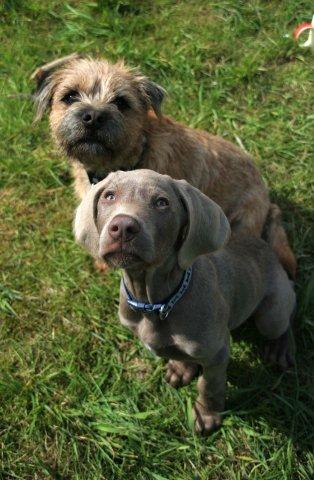 Amie's Dam and Sire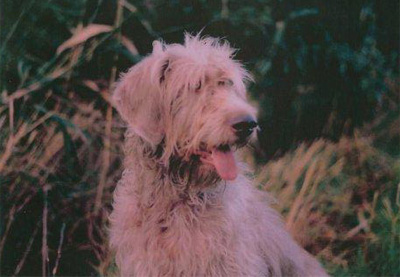 Amie's Mother
Ansona Alara avec Achouffe
Hip score 2:2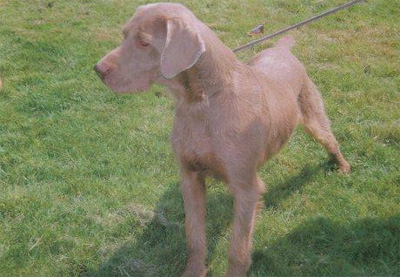 Amie's Dad
Amie's Sire Evar Kaicul at Stormdance (Imp)
Hip score 3:6
Beno Meshov Dvor at Stormdancer
Stud Dog Beno Mescov Dvor at Stormdancer.
Our chosen sire for Amie's forthcoming litter.
Beno is particularly rare as he is currently the only grey and white SRHP in the UK.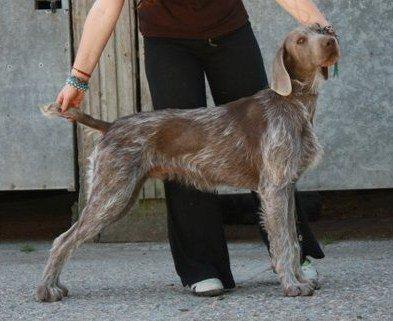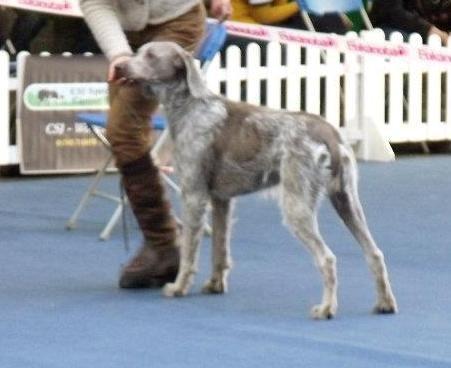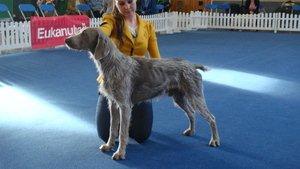 Lord Kaicul

CACIB,CAC,BOB DIX zo Splavu z Hoste

Citra z Barbajky

World Winner 2009, 4 x CACIB 5 x BOB 5 x CAC CAJC,CACT Cira z Mihoslovskyych poli

CACIB,BOB,CAC Deo Hrabniky

3 x BOB,4 x CACIB,CACA,4 x CAC,R.CACT,Eur.Sieg.05 Brita z Ruzenice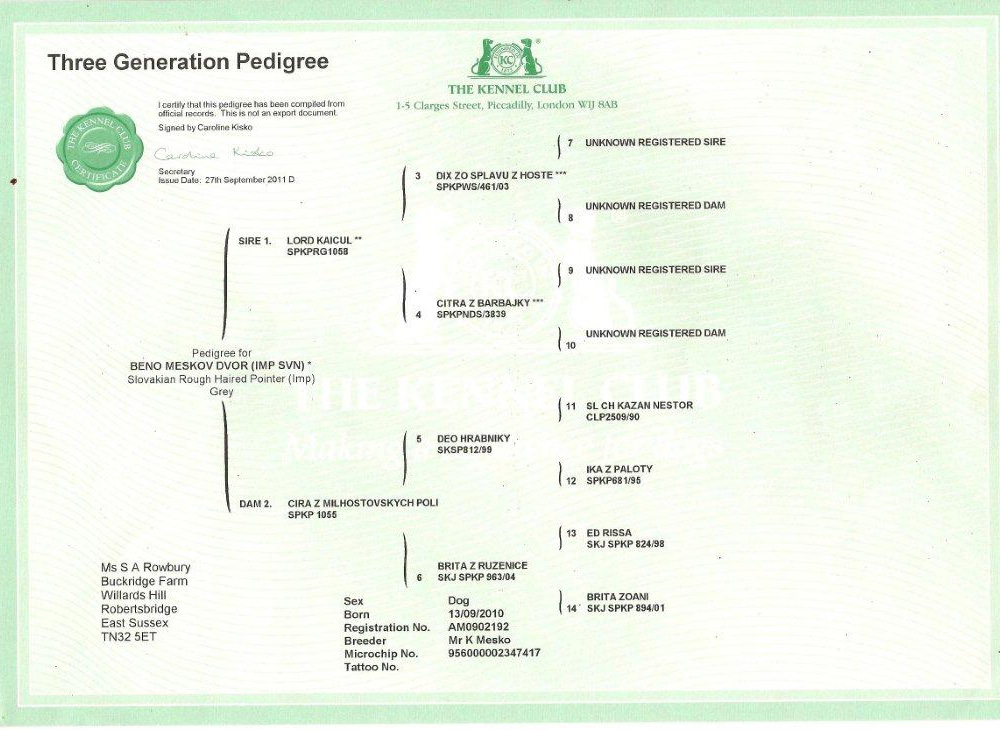 Links